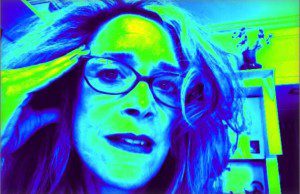 My goal is to help people tune-in to their unique potential by thinking different.  Thanks!
Jane Bernard is a visionary and a teacher.  She is passionate about the role of Sensual Thinking to facilitate enduring positive change in our world. Logical and original, Jane has been called inspiring and provocative. Through her eyes, we see ourselves differently.
Having degrees in Philosophy (The New School) and Special Education (Bank Street College), combined with three decades of Rinzai Zen practice, and the 'everyman college of living', all contribute to her thinking.
Jane is a writer and the author of 3 books about intuitive thinking. She has been on TV & international radio, talking from the intuitive perspective. Jane introduced her first book, Fine Tuning, on The Montel Williams Show, in 2006.  Her easy-going combination of common sense and originality is a natural eye-opener.
Her background includes working with autistic and learning-challenged children, educational think tanks, a writing professor, a regular on national radio, technical writer and coaching people to be intuitive eaters. People have been connecting with their senses to take control of eating habits since 2011, with her helpful book about intuitive eating, Am I Really Hungry?
Jane's dream is to produce multimedia happenings as edu-tainment, where people learn to feel their connection with character and each other and, to use the power of thinking with their senses and feeling with their minds, in order to trust their unique creativity to find new solutions for old problems. With a wonderful, gifted team working together to bring positive change to our world by thinking differently, this is happening.
She lives her philosophy. Jane discovered Sensual Thinking through hard lessons, experienced by ignoring her intuition. Since life is full of the unexpected, the unlikely and the impossible, thinking with her senses to stay in-tune with change, is how Jane keeps an open mind.
Jane sees each person as a facet on the gem of humanity. For her, nature and music are muses. She treasures kindness and character. Jane is thankful and inspired by the generous enthusiasm she receives from around the world.
Gentle and intense, Jane's passion is contagious. She lives in NYC, goes to Bikram yoga, writes every day and enjoys the energy of the city that never sleeps. This sensual philosopher sees herself as a spark, so that others may flame.
Jane is a mother and a grandmother. She is a member of The Dramatists Guild of America, The Association for Conflict Resolution, The International Speakers Bureau, The First Zen Institute of America, Independent Book Publishers Association, National Association of Professional Women & The Groucho Club (UK).
Fine Tuning is a simple book that works like an oracle. Hold it in your hand, think of a question and open. It is full of quotes and insights designed to open your mind.
Jane Bernard
Vitae available upon request