Books by Jane Bernard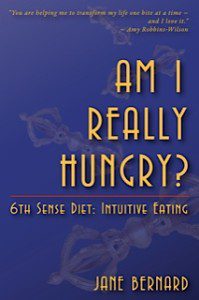 Am I Really Hungry? is a 21st century guide for healthy eating. The way we eat is often a reflection of the way we live. Why not live intuitively? People call it "liberating". Based on interviews with dieters and intuitive eaters, this book tells how to turn off old diet hot-buttons and turn on natural self-control. Imagine knowing what you want, knowing when you're hungry and being at peace with your body and yourself. Learn to use universal intuitive values when you eat and watch what happens to the rest of your life! This book explains the inner game of self-control.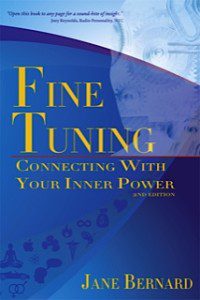 This simple book helps you recognize and tune-in to your potential. Full of simple quotes and provocative short  suggestions, it can be opened to any page for a sound-bite of insight. Some people keep it in the bathroom for a quick tune-up. Others say Fine Tuning is like having a good friend by their side. Connect with the art of changing with the times. Instead of getting mired down with regrets, habits or stress, why not tune into the flow of living? Fine Tuning is using the natural gifts of our senses to connect with what we want, need and must deal with, in order to get results in our lives that make it "feel right".
Knock Your Block Off! is a psychological and intuitive approach for beating writer's block. When you understand your writing process, a block becomes a signpost. Realizing how thoughts flow or are censured makes it easier sidestep the frustration of feeling blocked, and  natural to stay in the flow. This short ebook includes writing rituals that work and rules to follow to knock writer's block out of the way, so creative momentum is liberated. Knock Your Block Off is used by writers all over the world when the going gets rough.